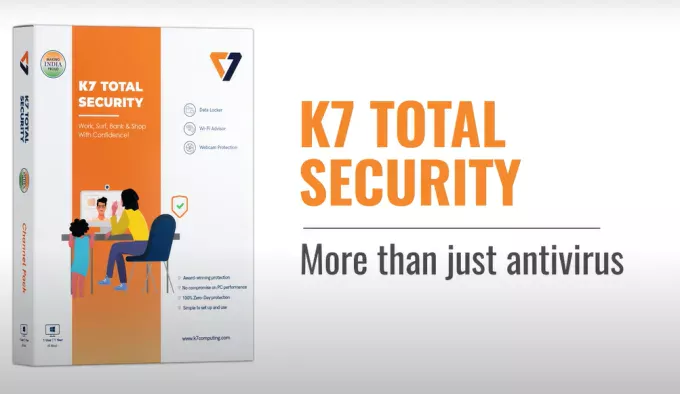 Welcome to another informative blog post by AS IT CARE! In today's fast-paced digital age, safeguarding your computer and online activities has become more crucial than ever before. That's why we're here to guide you through the seamless installation and activation process of K7 Total Security. With its powerful features and comprehensive protection, K7 Total Security is an excellent choice for keeping your system safe from cyber threats. So, let's get started on fortifying your digital fortress!
1: Preparing for Installation
Before diving into the installation process, it's important to ensure that your system meets the minimum requirements for K7 Total Security. Check if your operating system is compatible and that you have sufficient disk space. Additionally, make sure you have a stable internet connection to download the necessary files.
2: Downloading and Installing K7 Total Security
Visit the official K7 Total Security website and navigate to the "Downloads" or "Products" section.
Choose the appropriate version of K7 Total Security for your operating system (Windows/Mac).
Click on the download button and save the installation file to a preferred location on your computer.
Once the download is complete, locate the file and double-click to start the installation process.
Follow the on-screen instructions provided by the installation wizard. Read the terms and conditions carefully before proceeding.
Select your preferred installation options and choose the destination folder for the software installation.
Click "Install" and wait for the process to complete. This may take a few minutes.
3: Activating K7 Total Security
After the installation is finished, the K7 Total Security application will launch automatically.
On the main interface, click on the "Activate Now" or "Register Now" button. This will open the activation wizard.
In the activation wizard, enter the unique activation key that you received at the time of purchase. This key is typically a long alphanumeric code.
Click "Next" and follow the prompts to complete the activation process.
If you don't have an activation key, you can choose the "Activate Trial Version" option to use the software with limited features. However, it's recommended to purchase a valid license for full protection.
Once the activation is successful, you will receive a confirmation message. Congratulations, you're now ready to explore the comprehensive protection offered by K7 Total Security!
4: Customizing Your Protection
Now that K7 Total Security is up and running, take a moment to explore its features and customize the settings according to your preferences. The software offers a range of options to fine-tune your protection, such as scheduled scans, real-time monitoring, firewall settings, and more. Take advantage of these features to maximize your security and ensure a safe digital environment.

In this blog post, we've walked you through the installation and activation process of K7 Total Security, an advanced cybersecurity solution that provides comprehensive protection for your digital world. By following the step-by-step guide, you've taken a significant stride towards safeguarding your computer and online activities from evolving cyber threats. Remember to keep your software up to date and stay vigilant against potential risks. Thank you for choosing AS IT CARE as your go-to resource for all things tech-related. Stay safe, and happy computing!